Understand Ayoa's three tier plans to meet your individual or team needs with this quick guide.
Our Ayoa Ultimate is our premier plan, perfect for power users and large teams. This subscription includes all of our integrations and premium features.
The Ayoa Mind Mapping plan only includes the mind mapping views. This is for individuals who only want to create mind maps. Ayoa Mind Mapping does not include presentation mode as this is an Ultimate exclusive feature.
The Ayoa Free is a basic plan that offers the organic mind mapping view without any distracting features. While there are no limits on creating or importing, there are fewer features overall. Ayoa Mind Mapping is the ideal choice for those who want a straightforward and streamlined mind mapping experience.
You can view the up to date full feature list of each pricing plan on our pricing page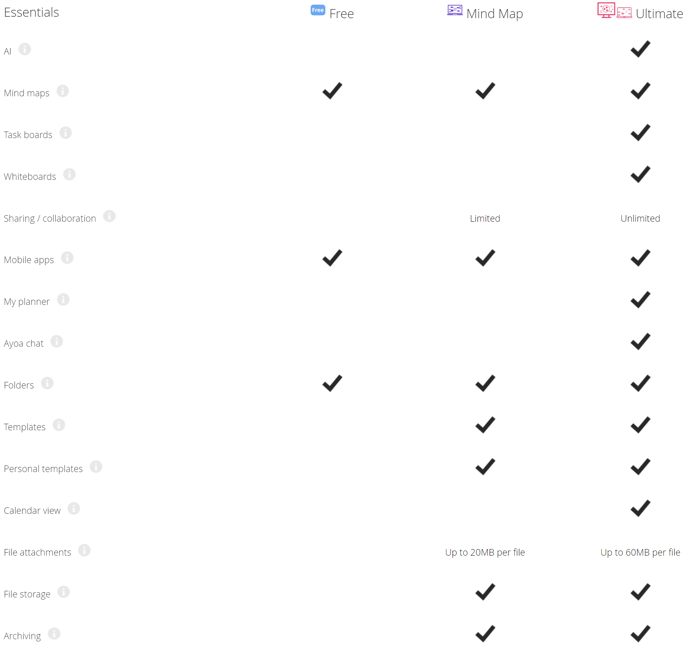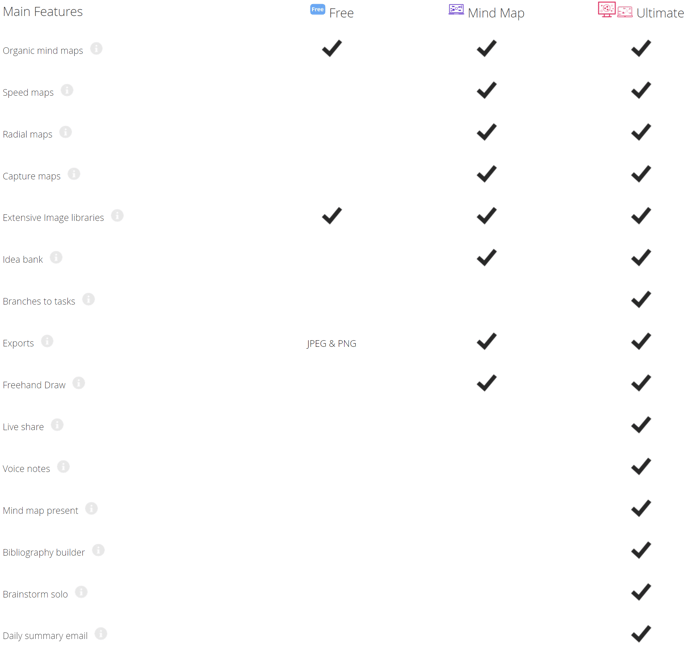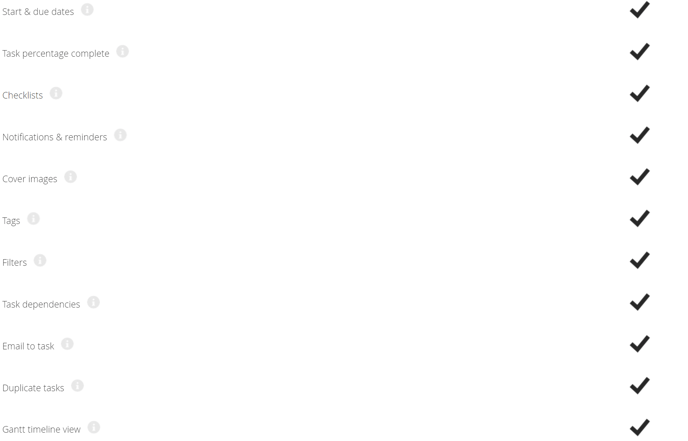 FAQ for existing Ayoa subscribers
I'm an existing Ayoa user, my plan has changed to legacy, what does this mean?
As an existing user on our legacy pricing you will keep access to all the features you have always had. The price of your subscription will remain the same at renewal.
If I'm on a legacy plan, do I need to change to a new plan?
If you are happy with your features you don't need to do anything. If you want to upgrade to the Ultimate plan you can do this is your account settings here
Will my legacy plan change when I automatically renew?
No, when you automatically renew your plan will be at the price you signed up for when you purchased your original subscription.
How can I try all the features?
We offer a free Ayoa account option, and for those who want to experience everything Ayoa has to offer, we recommend upgrading to a monthly Ayoa Ultimate subscription, which can be cancelled before the next renewal.